Nacho Macho Taco (5th Ave)
82 5th Ave, Brooklyn, NY 11217
Order now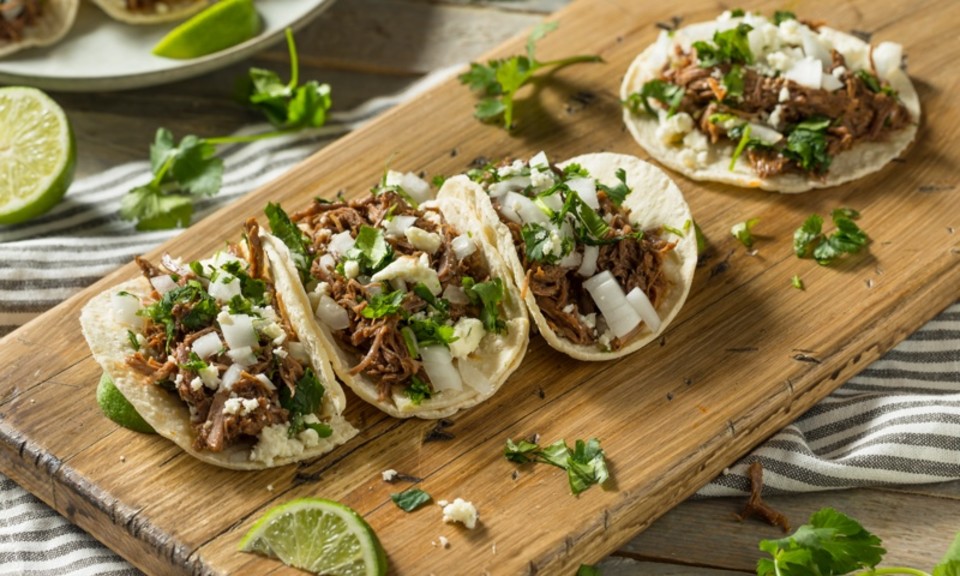 Malathia
I've ordered from here twice before and had a really bad experience the second time. The bad experience was mainly because the delivery driver didn't know where to go, then took my food back to the restaurant. By the time I got it, the food was cold and unappetizing. The manager told me he would try to make it right, but never did. I took another chance and this delivery driver they have now is much better. He brings the food before the delivery time and it's always good. I've decided it's better to order in the evening and skip the lunch rush.
Brittany
Im visiting the city and gave the wrong address and the delivery guy upon realizing he went to the address given but I wasnt there, entered the Tour de France and biked like crazy to get us the order. And delivered the food with a smile. Great service.
Alexandria
I order from this restaurant frequently their lunch specials are a great value, the food is alway early, hot, and delicious overall great place to order from when you dont want to risk being dissapointed
Allison
I Love nacho macho so so much, as does my whole apartment. We order nacho macho weekly and I've never once had a bad meal. The food is always on time and always warm and delicious. Thank you
Hattie
Wow. WOW. I'm addicted to this place. My boyfriend goes every chance he gets. So it convinced me to order it once. Now I order all the time. #noshame it's all so delicious
Julie
Take this West Coast transplant's word for it: these tacos are superb! After three years of food drudgery all over Manhattan, Queens, and Brooklyn, I feel like I've been finally rewarded with Nacho Macho Taco. It was worth it. Good tacos come to those who suffer "Mexican" food in New York and feel like they'd have to move back to CA just to remember what a taco even looks like. Oh, and the grilled fish is the best one. Trust. #WestCoastBestCoast #TheseTacosAreLit
Tom
I love this place and the food is amazing! However on one occasion they forgot to include salsa with my order. Yesterday the wrong type of taco was given to me and I only received two lime wedges for 3 tacos. Today the wrong type of drink was given to me. Also about one in three times I won't get 2 radish slices for each taco.

Other than those few hiccups I would highly recommend this place.
Kiamani
Good quality Mexican food! Nice sized portions and fresh ingredients. On my first trip there the employees were so nice (young man and older woman)! On the second trip, there was a young lady at the register who was rude. But I wont let her ruin my experience. Ill continue to order from there.
Monica
There is so much mediocre Mexican that I was super pleased to come across this restaurant. Don't be fooled by the goofy name, they double the very fresh, soft tacos I assume are house-made, the fillings are tasty and generous, the prices fair. Delivery is accurate and quick...our go to.
Adam
I've ordered like a hundred burritos from this place and they have never screwed it up. I guess I've never been blown away (I mean, it's a burrito, just put the beans and the chicken and the other stuff in the tortilla and bring it to me), but I've never been disappointed either.
About us
Dinner, Lunch Specials, Mexican
Today

Delivery: 11:00 AM - 10:45 PM

Takeout: 11:00 AM - 10:45 PM

Delivery

Monday:

11:00 AM - 8:45 PM

Tuesday:

11:00 AM - 8:45 PM

Wednesday:

11:00 AM - 9:45 PM

Thursday:

11:00 AM - 9:45 PM

Friday:

11:00 AM - 10:45 PM

Saturday:

11:00 AM - 10:45 PM

Sunday:

11:00 AM - 8:45 PM

Takeout

Monday:

11:00 AM - 8:45 PM

Tuesday:

11:00 AM - 8:45 PM

Wednesday:

11:00 AM - 9:45 PM

Thursday:

11:00 AM - 9:45 PM

Friday:

11:00 AM - 10:45 PM

Saturday:

11:00 AM - 10:45 PM

Sunday:

11:00 AM - 8:45 PM